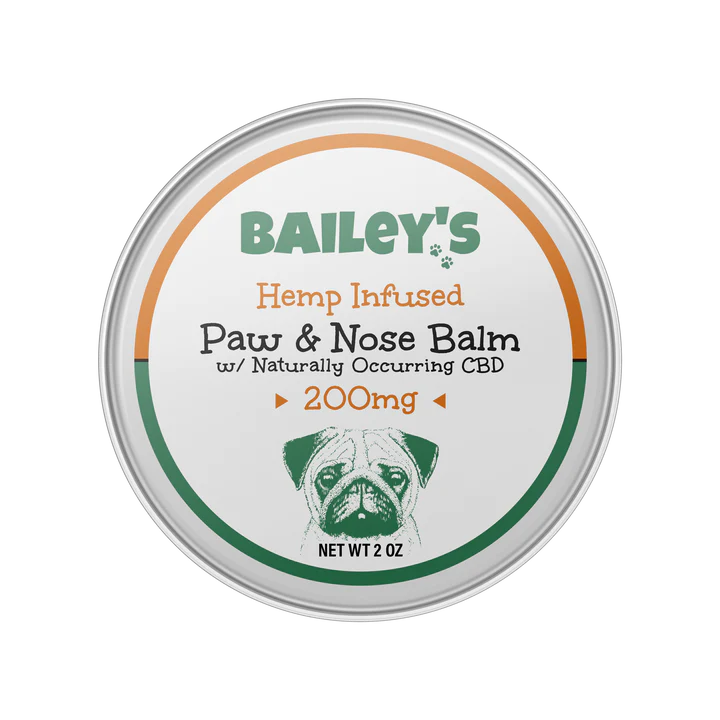 Double click image to zoom in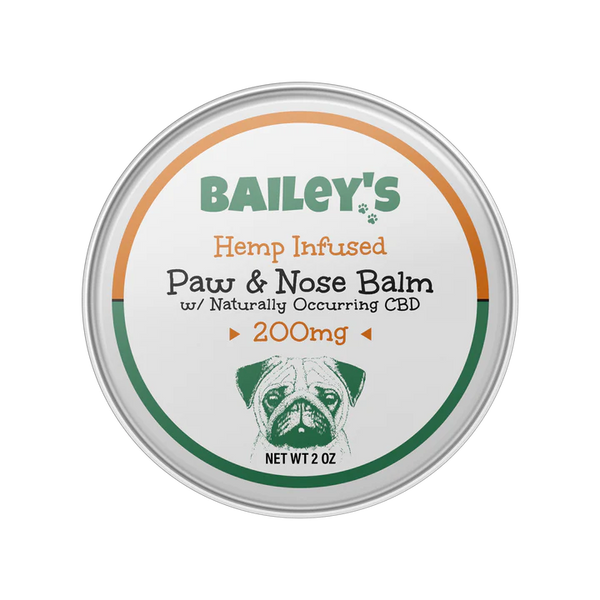 Paw & Nose Balm w/ Naturally Occurring CBD
Your Dog Will Thank You!

🐾

Here's Why:

Your dog's nose is one of their most important organs, containing 50x more receptors than humans contributing not only to their amazing sense of smell, but also their overall bodily function!🐽

While wear and tear on your pup's paws is normal, dry cracked dog paws are highly overlooked as they are very common and a cause for concern.🐾

Ready to show your pup how much you care with proactive use of Bailey's Hemp Infused Paw & Nose Balm?!✅

Benefits & Uses of CBD Paw & Nose Balms:

Dry Nose Relief

Dry Paws Relief

Rash Relief

Hot Spot Relief

Cracked/Affected Area Relief

Helps Lesion Healing

Wound Care Relief

Wart Relief

Reduces Topical Inflammation

Reduces Skin Irritation

Packed with simple, all natural yet highly effective plant-based ingredients, including:  

Beeswax:

 

Known for it's antiseptic & healing properties, beeswax is nontoxic to dogs, making it safe for licking dogs. Beeswax

 can even reportedly act as a sealant, repelling everyday dirt and grime for your pup's paws, wounds, or affected areas. 

Sunflower Seed Oil (helianthus annuus): This highly absorbent carrier oil is c

ommonly used to keep our dog's 

skin moisturized. The linoleic acid in sunflower oil makes it effective for protecting skin against bacteria and germs. A small animal study also found that topical use of sunflower oil was beneficial for healing wounds faster. This may be due to its oleic acid content, which can be beneficial for wound care.

Shea Butter

 

(Vitellaria paradoxa): M

oisturizes and protects skin, and best of all, it's totally 

dog

-safe when applied topically in reasonable amounts. Use 

shea butter

 to soothe dry paws, noses, elbows, and other dry patches. You can moisturize your hands and your 

dog's

 paws at the same time.

Aloe Barbadensis Leaf Juice: Aloe 

is not only 

used

 for 

the

 treatment of itchy skin but also for many skin problems like eczema, skin allergy, hot spots and skin rashes. It has antioxidant and antibacterial properties, and helps increase speed of skin healing. It's anti-inflammatory properties and cooling nature offer relief and comfort for our pets in need.

Naturally Occurring CBD: From single-sourced Rocky Mountain grown, USDA organic full spectrum hemp extract. CBD is known for its anti-inflammatory properties as it works to promote "homeostasis" at as systemic level via our pet's Endocannabinoid System, or ECS, which interacts directly with our pet's Central Nervous System and skin organ. 

Directions For Use: Apply liberally to any dry, chapped, or cracked areas, including paws, nose, ears, hot spots, rashes & wound care. Your pet will thank you! 

This product has not been evaluated by the Food and Drug Administration, and this information is not intended to diagnose, treat or cure any disease. Please consult with your veterinarian before using our product. Product contains less than .3% THC.



Our on-line store is open 24/7 and we ship Monday through Friday, excluding some holidays. Orders received for products without shipping restrictions on its product page will ship the same business day when received before 12:00 p.m. PST. Orders in high demand will have an estimated production time listed on its product page and will ship according to the date listed.